2018 Conference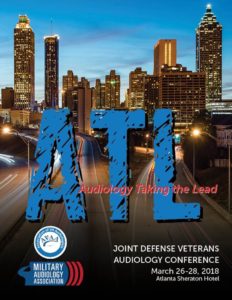 The Joint Defense Veterans Audiology Association (JDVAA) is pleased to announce the Joint Defense Veterans Audiology Conference for 2018 ~ "ATL-Audiology Taking the Lead".  The conference will be held at the Sheraton Atlanta Hotel in Atlanta, GA on March 26-28, 2018.
JDVAC is an annual meeting between the Association of VA Audiologists (AVAA) and the Military Audiology Association (MAA).  This annual meeting of the two organizations began as part of an effort aimed at expanding and enhancing the cooperation and collaboration between the DOD and VA Audiologists.  It provides an opportunity for networking and collaboration between the Audiologists treating our active duty service men and women and those working with our nation's veterans.  The conference aims to offer sessions that are geared toward these particular cohorts and to address the hearing and healthcare issues that are central to what VA and DOD Audiologists deal with on a day to day basis; areas such as tinnitus treatment, TBI/polytrauma, hearing conservation, compensation/pension evaluation.
Planning is currently under way and announcements for field presentations and posters will follow shortly.  Registration will open in October, please watch for an announcement at www.myavaa.org or in your email inbox.
JDVAA is comprised of members from both the AVAA and the MAA boards.  JDVAA holds the responsibility for maintaining the integrity of the JDVAC conference.
Disclosure Forms